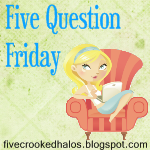 Join the fun oved at
Five Crooked Halos
1. W
ould you rather pay for house cleaner or spa day?

While I LOVE LOVE LOVE a good massage, I can say handsdown I would rather pay for a house cleaner!!!! I HATE HATE HATE cleaning and to have someone else do it for me would be better than any spa day!
2. W
ho plans what gifts you get for holidays, you or your spouse?
If we are talking about the gifts we give our kids, that's 100% me. If your talking about gifts Hubby gets for me, then I would say the breakdown is 50% me (I'm really good a giving LOTS of hints!), 40% our kids (They are really good at remembering my hints!) and 10% Hubby (he drives to the store and pays for it!).

3.
How many hours of sleep do you get? Do you need more?
A LOT!!!! I go to bed about 11 each night and if I can wake on my own it's about 10am. Occassionally I will take a nap in the early afternoon if I had a restless nights sleep, and my naps are usually about an hour.

4.
Do you like your hair long or short?
Honestly, I don't really have a prefference. I have had my hair really long (butt-lenght) and I've had a short bob and every length in between. Currently my hair is just below my shoulders. I have an appointment for a cut/color next week and I'm thinking about going to a long bob, just above my shoulders. I guess it all depends on where I am at in my personal style of the moment.

5. When was the last time you were pulled over and what was it for?
Hmmmmm, I think it was about two years ago. My registration was expired by about 2 months...OOPS!! Thankfully the officer was really nice and gave me a warning and said to get it done ASAP and let me go on my way. :-)